We Love OurPatrons!
"No act of kindness, however small, is ever wasted." ––Aesop


We are delighted to welcome the following new members and thank them not only for their membership dues but for the donations they added in, as well. We also send heartfelt thanks to members who have sent contributions or donated supplies since the printing of the summer newsletter: Dana Beck, Diana Bowen, Chris & Karen Brindle–owners of Wild Birds Unlimited, David Burkhart, Joy Davis, Heidi & Charles Foster, Brenda & Bruce Holoubek, Patricia & Ed Hostetler, Glenn Leighty, Jeannie Morris, Jean Nelson, Cynthia Norton, Robert Othmer, Duane & Anna Romig, Larry & Sharon Todd, Katy Walters, the students of Schirle Elementary School, & Pamela Wood.
We welcome Lori Fisher as our new Webmaster. Lori takes over for Peter Banka, who did all the groundwork. The site will be down for a few weeks while we transfer domain ownership and bring it up to date. The site may undergo a name change, as well, so you'll just have to stay tuned!
Joni Brewer has consented to become SWRA's Volunteer Coordinator…on a purely volunteer basis, of course! Joni and Trina Brown have created a dandy new Volunteer Opportunities flyer. If you'd like to find out about the types of volunteer jobs we have available, please give Joni a call at 503-585-5577. Also, if you know places where we could distribute the flyer and/or our newsletter, please let Joni know!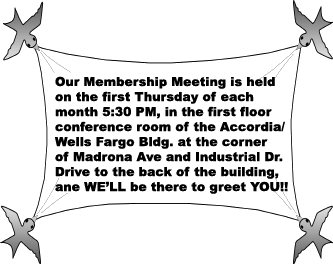 Think of Us When You Go Shopping!

Though Baby Animal Season has wound down, our rehabilitators continue to care for injured or sick adult mammals and birds as well as the juveniles who must be wintered over before release next spring. Licensed Mammal Rehabilitator Melanie Smith has 27 (yes, that's 27!!!) frisky juvenile raccoons who must stay in her outdoor care pens over winter. She is slowly "wilding them up," but though her contact with them lessens by the week, she must still feed them and make sure they have their parasite medications and treatment for any other health problems. Raptor Rehabilitator Karen Costa never has a slow season, so year round donations are very welcome.
Here are some of the priority items on our Wish List:
In-Care Supplies
Rolls and rolls and rolls of paper towel, heat lamps, heating pads, old blankets or comforters, sheets, and towels, kleenex, broad spectrum light bulbs, Clorox Clean-up, gallon-size Lysol, 23"x36" underpads (the type humans use), baby wipes, smooth sided dog or cat kennels, bottled water.
Nutritional Supplies
Lactated Ringers Solution, Pedialyte, Esbilac (powdered– found at pet stores), Nutri Cal, DRY kitten chow, DRY dog food, fresh fruits and vegetables.
Medical Supplies
Ophthalmic ointment, amoxicillin, liquid baby vitamins, 3 cc "o" ring syringes, Baytril, forceps, incubator.

If you'd like to donate any of these items,
please call President Tari Edmonds at 503-362-1982.
We'll be happy to pick them up or arrange to have you bring them to us! Or, we'll go shopping with you!
---
Who Do You Call?
If you find an animal needing assistance,
please contact the
WILDLIFE HELPLINE, 503-856-8242.
HELPLINE volunteers will triage your call and refer you to the appropriate rehabilitator if the situation requires in-care treatment. Many situations can be resolved through triage. By law, SWRA can only treat and release native wildlife. However, we will help you find humane solutions for non-native animals in distress.